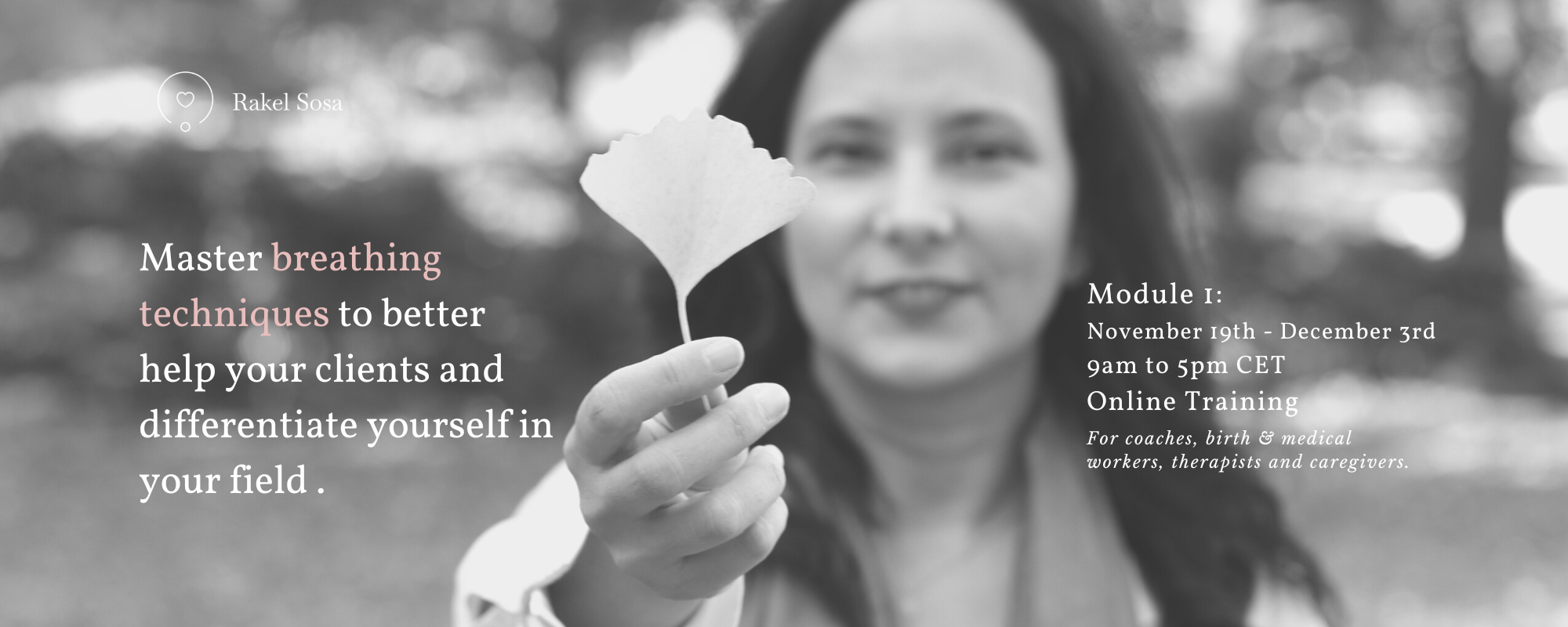 Standout in your sector with an impactful tool.
Add value to your offers.
Guide your patients and clients
in precise breathing modalities
that will calm their nervous system on the spot, 
enhance their vitality and help them gain perspective.
Your success rate with your clients will increase monumentally.
Wouldn't that make a big difference in your mission, impact and income?
I know it will! Let's get to it.
Join my 8-day Breathing Online Certification. Start with
Essential Breathing Level 1.
19th November & 3rd December, 2022.
Essential Breathing is a 4-level immersion program that has been carefully curated so you can add a fundamental tool into your support protocol to work with your clients. It includes ancient techniques proven by science and easy to apply in modern life.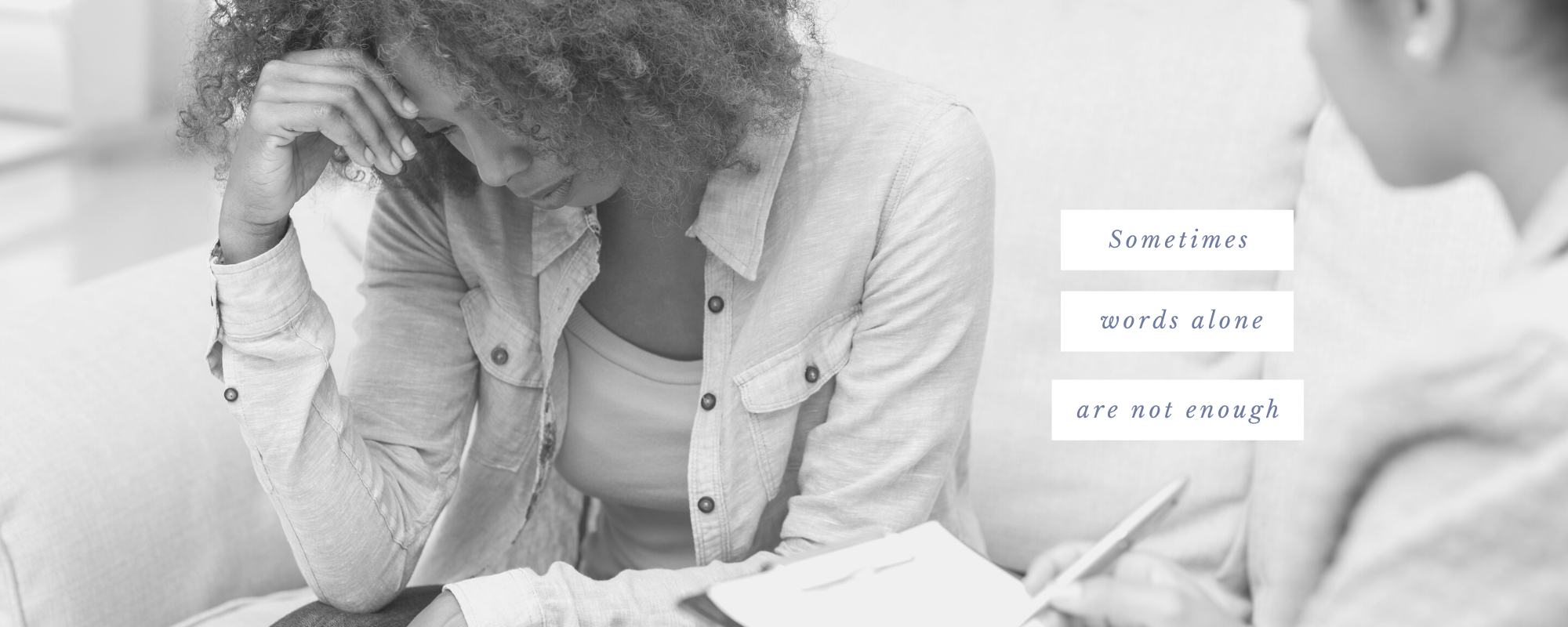 Because of the direct impact that breathing has in the body, mind and emotions, it will upgrade the quality of work with your clients and help them obtain very concrete results in as little as one session.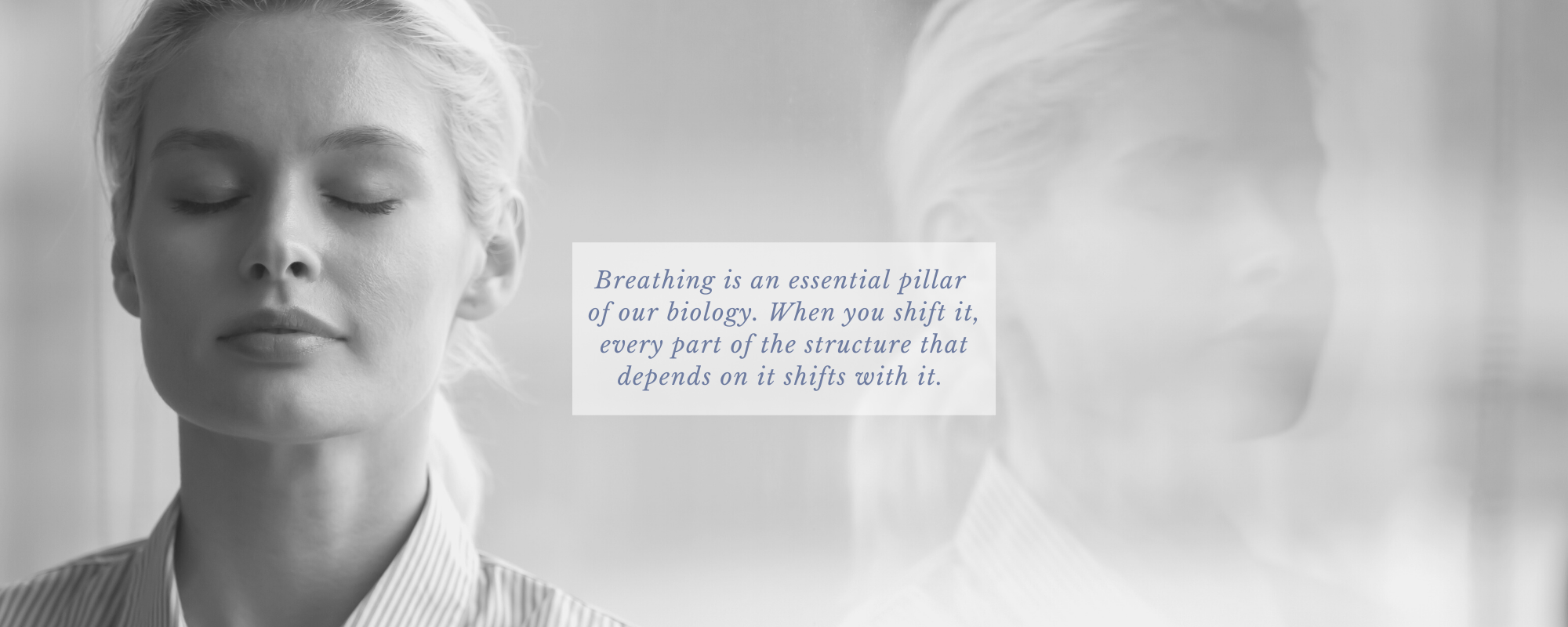 This is a course for you if...
You are a life coach helping people with their health, their life, their business or their relationship.
You are a personal trainer, a nurse, a yoga instructor, a birth worker, or if you work with people one on one helping them to improve their lives in any way.
You simply have a family member suffering from stress, illness or requiring them to balance their nervous system.
You want to be outstanding in your field and want to become an inspiring teacher and professional, to differentiate yourself from the rest with a very special tool, to help people discover a health renewal, vitality, creativity, strength, inner peace, endurance and greater well-being in their everyday life.
At the end of the immersion you will know:
❁ How to use breathing to produce different effects on the body, mind, and emotions so you know what you do when your clients are either too anxious and stressed or with low energy and needing a boost.
❁ How to guide a breathing-meditation sequence to get the most benefits for the client depending on what you are needing to develop with him/her, confidence, focus, inner calm, forgiveness, etc.
❁  How to take your clients brain waves from Beta (stressed and too engaged with the mind, anxious, and in alert), to Alpha, a state of certain trance were he/she are ready to receive information directly into the subconscious mind, are open and more relaxed.
❁ How to help your client deeply relax through breathing and muscle relaxation. That will improve their sleeping pattern and their capacity to really rest.
Breathing

 is much more than the abdominal technique that you might already know. 

There is a breathing technique to counter balance every state of mind.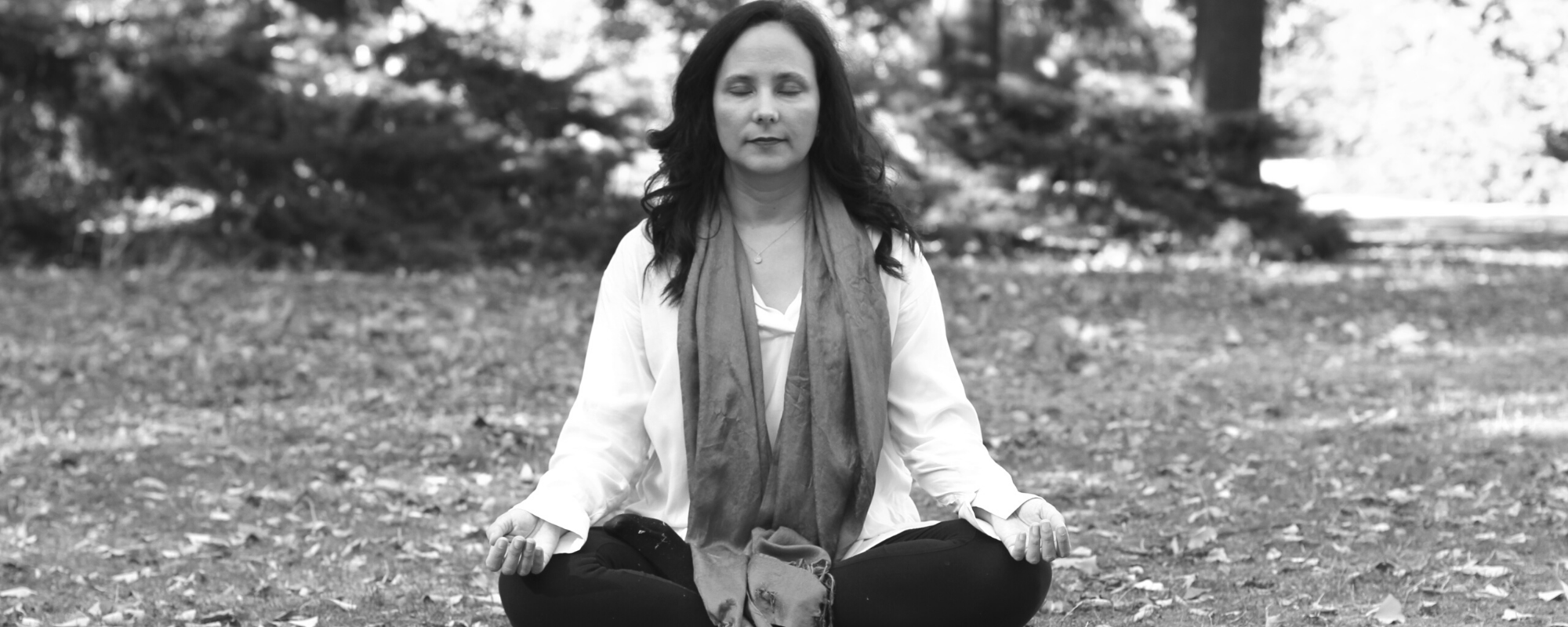 The Essential Breathing program works in three levels: Anatomy and mechanics of breathing, Emotional and psychological impact of breathing and breathing and energetics based on the yogic tradition.

I understand breathing as a complex process that activates and regulates the human body physically, mentally, emotionally and energetically. For the knowledge to really sink in the sessions have been designed very practical. You will practice in pairs with accountability partner. It also includes and requires that you implement the tools in between sessions and bring your findings to the next gathering.
Understanding the Anatomy and Mechanics of Breathing.
Starting with you: simple technique to get your own nervous system in balance to prepare for your clients, and avoid mental and physical exhaustion while supporting others.
Measuring your patient-client level of stress depending on their breathing rate.
How to chose the right breathing technique to help your client on the spot.
Do's and don'ts when showing a breathing technique.
Calming the mind: Guiding your clients into the Optimal Breathing technique. Shifting from survival mode (sympathetic) to relaxed or creative mode (parasympathetic).
Breathing in the yogic tradition.
Breathing as an introduction to meditation.
Integrating breathing to your working dynamic; implementing plan for the next two weeks.
Sharing experiences of the first two weeks of implementation. What worked, what didn't.  Q&A.
The impact of breathing on the brain waves.
Breathing technique to go from low energy depleted mode, to vital, uplifted and ready.
Using breathing in goal setting and visualization. Working with the Reticular Activating System.
Breathing and progressive muscle relaxation.
Breathing and meditation. A new layer.
I have dedicated a big part of my life to studying and exploring breathing as a tool for mental and physical health. Also as a way to support my clients in creating the life they want.  In Essential Breathing I have built a curriculum that will help any professional  working in human development and health sector to upgrade their practice, and offer impactful tools to their patients and clients. 
Rakel Sosa Women's Health Author, Stress Prevention Specialist.
Rakel has a multi-faceted background as a former journalist in conflict zones, and stress management breathing expert with German and USA certifications since 2009.
Since young age she was initiated in very advanced levels of pranayama yoga as well as with breathing specialists that have more of a medical approach.
She is the creator of Renew Within, a 1 on 1 3 months coaching program that helps women reach their next level in life. Also Breathing for Resilience Corporate Program; and she holds the Women's Breathing Hub once a month in Berlin.
She is the author of the pregnancy program Blooming Together. And collaborates in publications like the Huffington Post and Inspirulina.  She works in Spanish, French and English. Rakel also holds a master's degree  in Communication from La Sorbonne University and a degree in documentary filmmaking from UCLA.
The yogic tradition explored and found essential tools to increase levels of consciousness and profound wellbeing using the regulation of the breath -pranayama-. We are living in times where science is backing up many of their findings. There is an untapped potential for human growth in that knowledge;  I want to share with you in this training the essence of what I have learned in my more than 30 years of practice. It will give you precise tools to empower your clients at all levels. 
If you prefer to pay by bank transfer, you can use the info below. And if it's your first session please send me an email to breathing@rakelsosa.com confirming your bank transfer so I can send you the preparation info. Thank you!
Rakel Sosa Mendez – Postbank – Hauptsraße 27-29 10827 Berlin-Germany   IBAN:DE57600100700739006707   BIC PBNKDEFF    BLZ 60010070
Cancellation policy:
-Please note that if you do not attend the session, you are anyway responsible for payment of the full amount.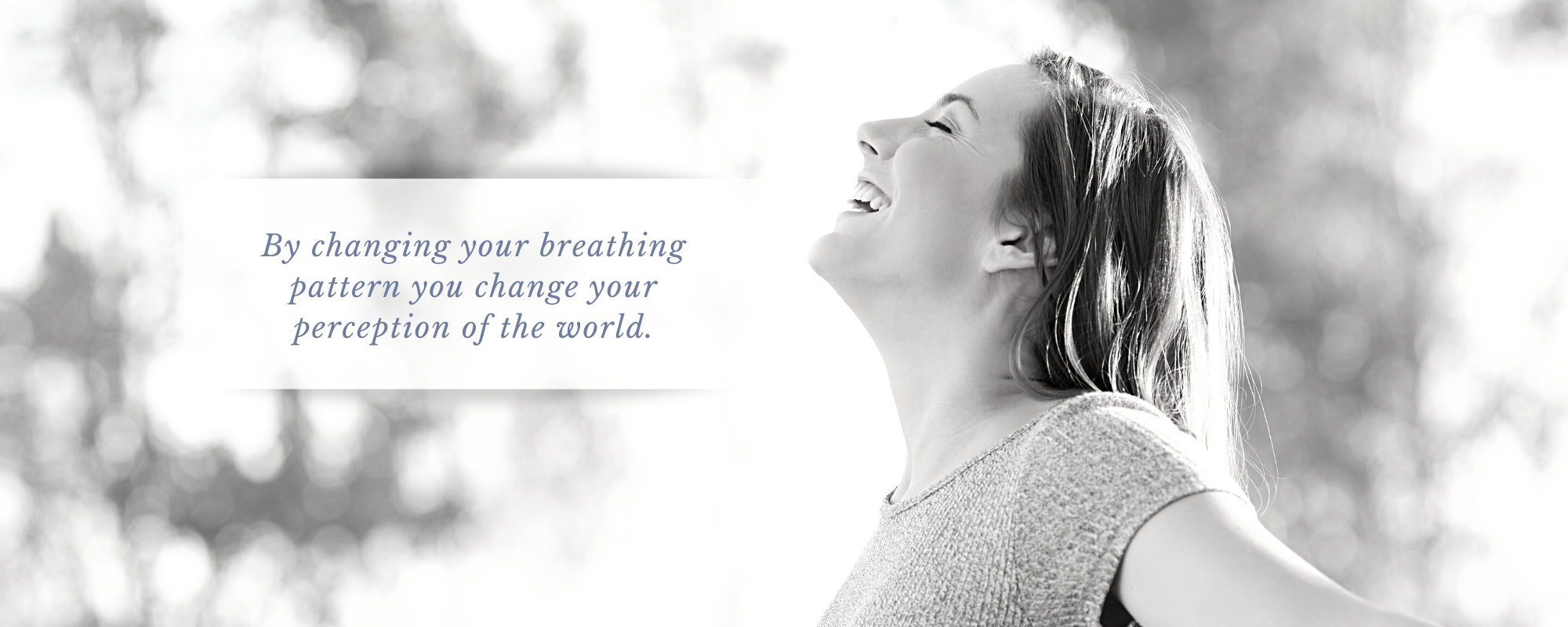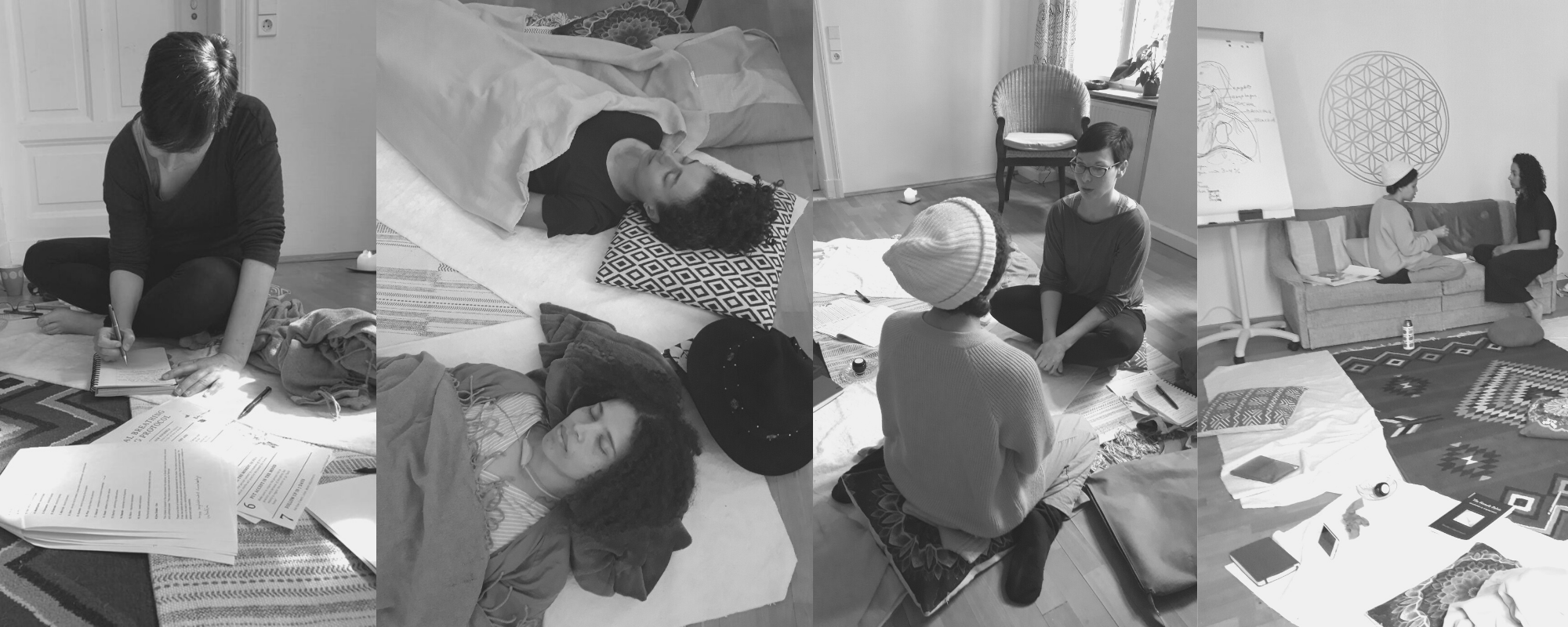 What participants say about the Essential Breathing immersion.
"It was a deeply enriching immersion. Full of knowledge and references spanning the scientific to traditions. I would recommend it to anyone who is seeking to guide others with tangible tools and a robust system of references."  
– Catrin Prinzler, Coach
"I loved this training, specially the building up from physiology of breathing to energetics. I liked very much the dynamic where we had to teach to each other to integrate the knowledge better in a practical way. Also Rakel teaches with such a positive and enthusiastic way. It was a pleasure."  
– Jeannette Petrik, Cultural Producer
"This was a great balanced course full of knowledge and love. I would recommend this immersion to get a holistic understanding of the breath and the physiological effects it connects to. The concrete breathing tools and meditation exercise are so easy to implement and make such a difference in my work. Two years later these practices have become an important part in my therapies to help the client manage emotional states and activate their parasympathetic state to manage their stress levels in a better way."  
– Uta Erle, Medical Doctor, Psychotherapist.
"We are aware that air is around us, that we must breath to stay alive, but do we really know why and how to breath properly?  The immersion took me on a journey of understanding what happens scientifically in our body and brain when we breath the way we should. And also, how it is connected to our emotions and mental stability.  I learned what a powerful tool breathwork is. How important and useful it is in our daily routine, either in our professional life, spiritual practices and mental and physical wellbeing and indirectly how it helps improve the relationship with ourself and the people around us. Breathing is truly life. It was an incredible immersion. I loved it. "
– Tobi Ayedadjou, Founder of RECONEKT
Combining your professional skills and experience with the breathing tools offered in this program will create massive breakthrough in your patient or clients mental, physical and emotional state. Then breathing becomes a preventive tool. That's where real power over their own human system starts.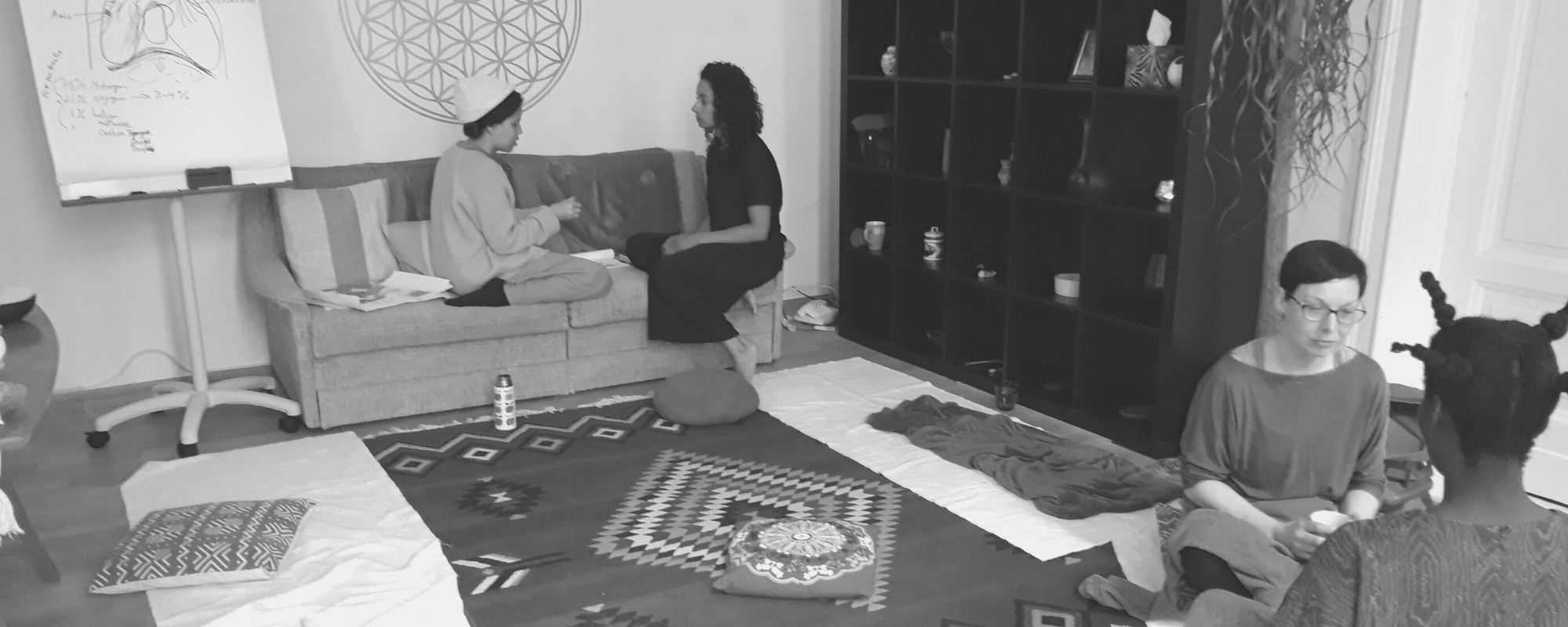 What do you get with the Essential Breathing Immersion.
12 hours of live online teachings distributed in two days with lectures, practical exercises and Q & A.
The 2 day immersion will be recorded and the videos will be accesible to the participants for life.
A video library with all the techniques that are taught  during the sessions will be available so you can check them and refresh them whenever you need to.
Accountability partner to share the process, asure the follow up and practice of the techniques.
At the end of the cycle, you will obtain certification in 

Essential

 Breathing Level 1 including a seal that you will be able to place on your website.
Access to Rakel to ask any question you need to in the implementation phase a month after the sessions.
Looking forward to seeing you in the training.
If you can't make it this time but you want to be in the waiting list for the next round, send me an email to breathing@rakelsosa.com and will make sure to have you in mind when I send the next invites.